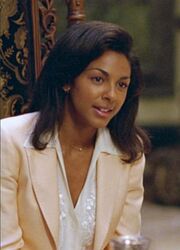 Sara Evers is the wife of Jim Evers and mother of Megan and Michael Evers. She is portrayed by Marsha Thomason in the 2003 film. Sara works as her husband's partner but she dislikes her husband missing out on family events due to his job. Sara gets a call from Ramsley the butler of Gracey Manor of possibly selling the estate. It turned out to be a trap for Sara. It turned out the mansion was cursed and in order for the mansion's curse to be broken she would have to marry Master Edward Gracey.
Sara is the reincarnation of Edward's deceased lover Elizabeth. Edward believes Sara and Elizabeth are the same person but he thinks she doesn't remember who she really is. Sara is forced to marry Edward but is saved by her husband Jim. Like Elizabeth, Ramsley decides to poison Sara like what she did to Elizabeth but it fails.
After the defeat of Ramsley, the spirit ball who had turnout be Elizabeth the whole time possesses Sara and informs Edward that the time has come to go to heaven. Elizabeth and Edward are reunited and both turn into spirit balls along with Ezra and his wife Emma. Sara, Jim and their children watch as the spirits go up into heaven. Sara lives happily with her family driving to the lake with the singing busts and Madame Leota.